Don't be under SOLD!
The time has come after months of searching, you've finally found your investment property.  It's in the perfect location, numbers line up, you're not over-extending your funds, and the floorplan layout is functional and open.  Fast forward 24 hours, you've agreed to an offer over asking from a bidding war, waiving all inspections and contingencies.
As we near your closing date, the buyer's lender will want to verify the home's value with an appraisal. This nerve-racking, but don't worry: if your broker did their homework with SOLD comparable homes in the area, the appraisal will come in at value and protect the buying party from overpaying.
The World of Appraisals and The Process
When do you need an appraisal?
If you're taking out a mortgage to buy a new home, the lender will require an appraisal. The appraiser gives an independent estimate of the property based on recent sales data of similar homes.
When the buyer's mortgage amount matches the appraised price of the home, you know that the loan-to-value ratio (LTV) is good.
What does an appraiser look for?
An appraiser will physically measure the home's square footage and visually inspect the entire property. They'll note things like:
    Floor plan functionality and the number of bedrooms and bathrooms
    Age of the house and its overall appearance
    Value of any recent updates or remodeling
    Size of the lot
    The desirability of the surrounding neighborhood
Comparing all of that against similar nearby homes sold within the last 90 days, the appraiser arrives at your home's value. 
What if it's valued for less than you expected?
Let's say you agreed to sell the property for $300,000 from the original list price of $290,000 but the appraisal came in at $285,000. The buyer's lender won't approve a loan for more than the appraised price.
If buyers still want to buy the home, you can negotiate a lower price with the seller or challenge the appraisal and pay for a second opinion.
Another option is to walk away. This may not sound ideal, and it will probably be hard to do but if you are set on selling for more, this will be your only option.
These are some of many investors work with Pacific Equity and Loan, we take the time to have an internal valuation but we also take time to get a 3rd party valuation to ensure your investment.
Recently Purchased
We recently funded this 5-acre purchase in Roy, WA.  The investor is planning on building a new home and sold the preexisting manufactured structure which was hauled away at the purchaser's expense.  All that's left is the flat land and the utilities.  Time to start building!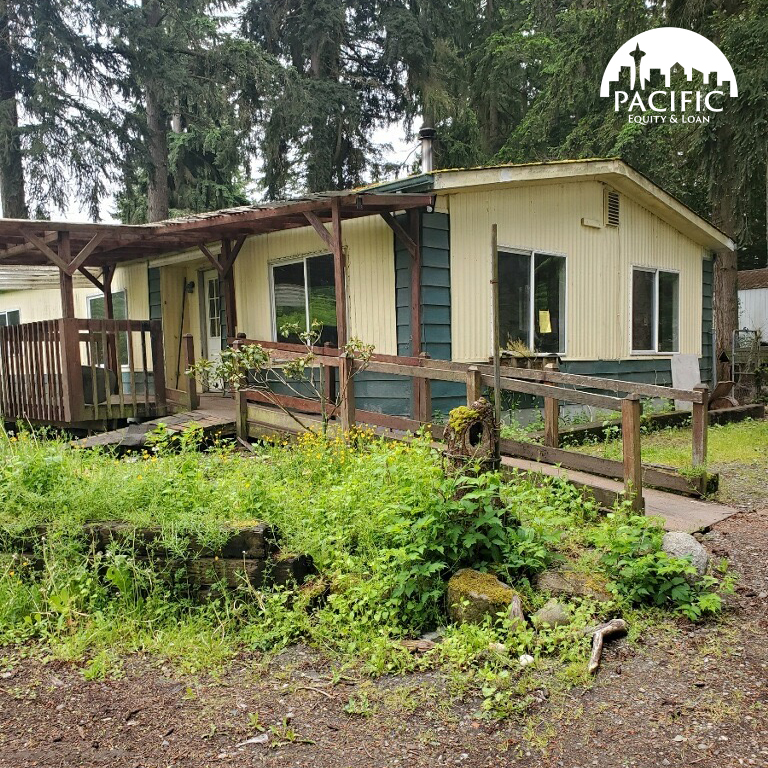 Lakewood, WA
3620 100th St SW
Lakewood, WA 98499
Federal Way, WA
33801 1st Way South
Suite 251
Federal Way, Wa 98003